March 30th 2009 by ThumbGods Editor in
Discussion
8 comments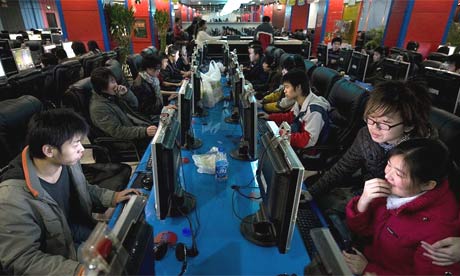 It's not often when my interests in China and gaming collide. Nate, of the China blog Orientation, recently posted on Chinese gaming habits, particularly the huge numbers of MMO gamers in wang ba, or net cafes.
China contains an undulating 59 million online gamers. Despite the fact that 47m of them play free-to-play games, this is a massive amount. To put that into perspective, the 2007 estimate of England's population was 51,092,000 while the 2008 census quoted America as having 306,068,000 million people. Imagine the entire country of England plunking down and playing a game everyday. Keep in mind that these are only online PC games.
The majority of Chinese gamers, though, seem to play in net cafes and not on personal computers. (Although this may be changing, I saw plenty of Beijing teens with their body weight in personal electronics, and laptops can't be far behind). Playing in net cafes instead of at home changes the gamer culture quite a bit. No more jokes about nocturnal gamers living in their basements, although there are plenty of 24-hour wang ba for late-night gaming sessions.
Also, fewer games rely on the purchase of software (I'll save the discussion of China and software piracy for a different post!), since one copy will be installed in the cafe and anyone who comes by will use it. Instead, games have an in-game cash shop or an hourly fee. While talking about Runes Of Magic, Lexton Collins credits the Asian game community for bringing us the free-to-play MMO model.
I also wrote on Chinese net cafes and gaming culture over on  Wang Ba: Gaming In A Strange Land on CNReviews. (It feels a bit odd to quote myself, but it's better than re-writing my description):
Chinese net bars sell computer time by the hour, and most also sell juice, soda, candy, snacks, and instant noodles, the Chinese equivalent of a Hot Pocket. You can also buy cigarettes, smoking isn't just permitted in net bars, at times I think it's mandatory.

The library-like silence of an American net cafe is gone, replaced with the usual thousand-decibel cellphone conversations, Tudou or Youtube videos, and shouts from the boys playing CounterStrike. It might not be the most conductive environment for working, especially when compared with the headphones-wearing crowd back home, but the cheery shouts of videogame victory don't need translation.
Another thing Nate noticed was the divide between guys playing combat-heavy games and girls spending their internet time using QQ, China's answer to AIM. Chinese girls do play games but it's more likely to be something cute on a handheld game or on their mobile phones than hardcore PC games.
I'm sure Chinese netizens and Old China Hands will see this as a very surface analysis, but it's very interesting to me, to see how the gaming sub-culture translates into other countries! Share your thoughts in the comments!
Related: Travel in China is like a Fantasy Novel, Living In China Is Like an RPG.
Did you enjoy
China's Gamers
?
Subscribe to RSS Feed
.
Social Bookmarking