October 28th 2009 by ThumbGods Editor in
Gaming News
1 comment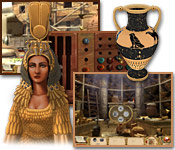 Mystery of Cleopatra follows Herod's Lost Tomb and other educational, casual games from National Geographic. In this one, you play as a trusted advisor to the queen, charged with solving a mysterious break-in at the palace.
Cleo is a gateway game,  a hidden objects game with elements of an adventure game. While there's still a certain amount of searching, you aren't just looking for objects for the sake of squinting at the screen, your character actually uses those items.
I've written before about losing interest in hidden objects play, but Cleo held my interest a bit longer with ancient scenes. Did I mention that there are Romans? I'm unable to separate my game reviews from my classicist side, and I have to admit that the later civil wars and the question of Caesarion and Octavian's inheritance have always interested me. The story leads you through different famous places in Alexandria, like the library and the lighthouse, and touches on some of the Roman-Egyptian tensions at the time. As you click around the hidden objects screens, bits of information appear about the items you're seeing. You'll also come across scrolls with a paragraph or two of historical background information. (I soon found myself skimming these, but that's mostly because I wanted to play more.)
Finding items was quite easy, since you can see silhouettes of the items you're seeking. I found my location hints recharging much faster than I could possibly need, but of course I was playing in casual mode because I am a huge slacker I don't like my games to scold me for pausing. At times, silhouettes of items that are used together will appear inside a jeweled circlet, and once all the parts are collected, you can make and use a new item.
The puzzles ranged from the usual reassembly of a torn-up note to really creative, clever puzzles. I particularly liked the logic puzzle to open the armaria (That's classicist for storage box. You're welcome.) and the code-breaking puzzle. The only disappointing puzzle was one that required players to arrange numbered scrolls. The directions were seriously confusing, it took me a long time using the red and green hints to figure out what the game was asking me to do. (If you're stuck, it might be because "across" doesn't mean what you think it does. )
Later in the game, your character remembers places you've previously visited, and you use your inventory and evidence to answer questions about them, a bit like the basic mechanic in Phoenix Wright and occasionally used in Women's Murder Club: Games of Passion as well.
Spoiler Alert! Caesarian gets killed so Octavian can be Caesar's undisputed heir! Wait, wrong spoiler. The real spoiler is at the end of the game when your NPC sidekick, Kathya, who's been mostly plot exposition and historical detail so far, turns on you and tries to frame you as the murderer!  The brutal backstabs of palace life!
Overall, Cleo is an engaging Big Fish-type game with great scenery and good puzzles. And Romans.
Did you enjoy
Mystery of Cleopatra
?
Subscribe to RSS Feed
.
Social Bookmarking